Wiki Home Troubleshoots Add CCBoot in Kaspersky Antivirus Exclusion
Add CCBoot in Kaspersky Antivirus Exclusion
2017/05/22 19:32
Some antivirus detects CCBoot.exe as a virus just like "Kaspersky Antivirus". When this antivirus detects CCBoot as a virus it will delete "ccboot.exe" automatically or add in quarantine. This will result to crash down the CCBoot server application, so all online client PCs will hang up.
Since we know it's just only a false detection. We will show you how to add CCBoot in Kaspersky as exclusion, and once the ccboot.exe is already added as exclusion the Kaspersky Antivirus will not scan again the CCBoot program.
1.
On the Kaspersky Antivirus Main interface click the "Settings" button (Figure 1-1)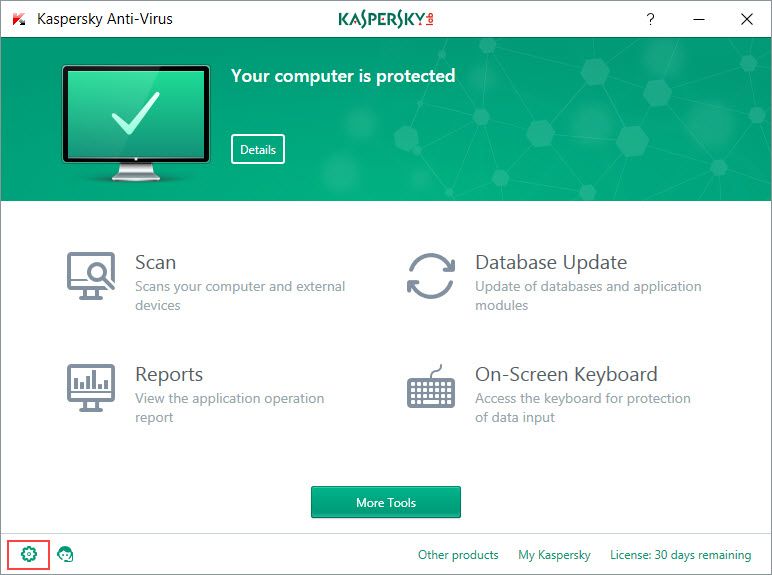 2.
Here in Kaspersky main settings, click the "Additional Settings" button (Figure 1-2)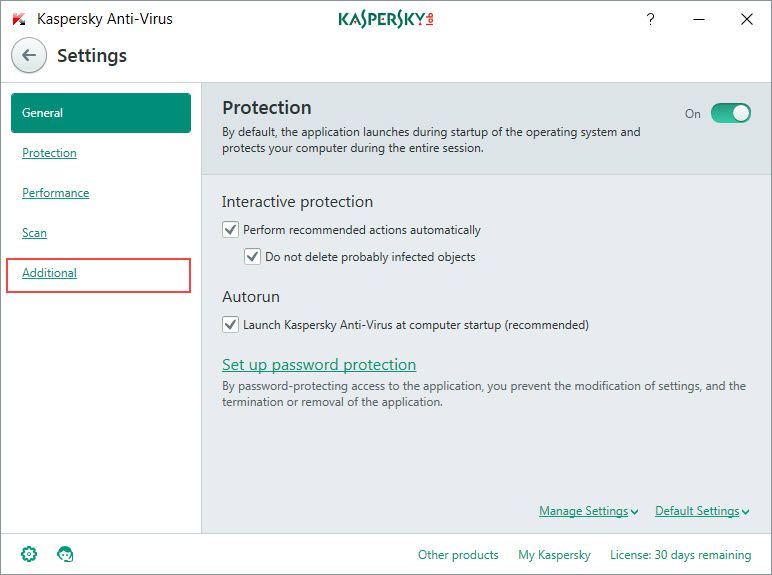 3.
On the "Additional Settings" interface click the "Threats and Exclusions" (Figure 1-3)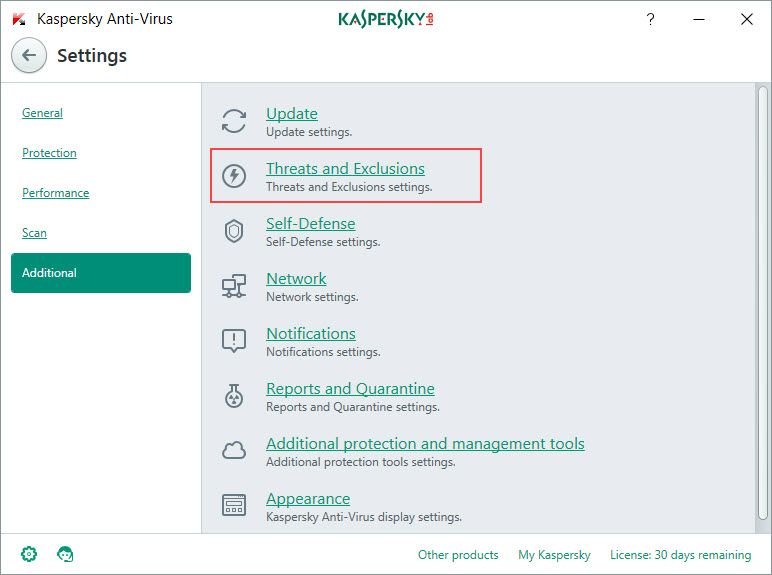 4.
Here in "Threats and Exclusions Settings" interface, click the "Manage exclusions" (Figure 1-4)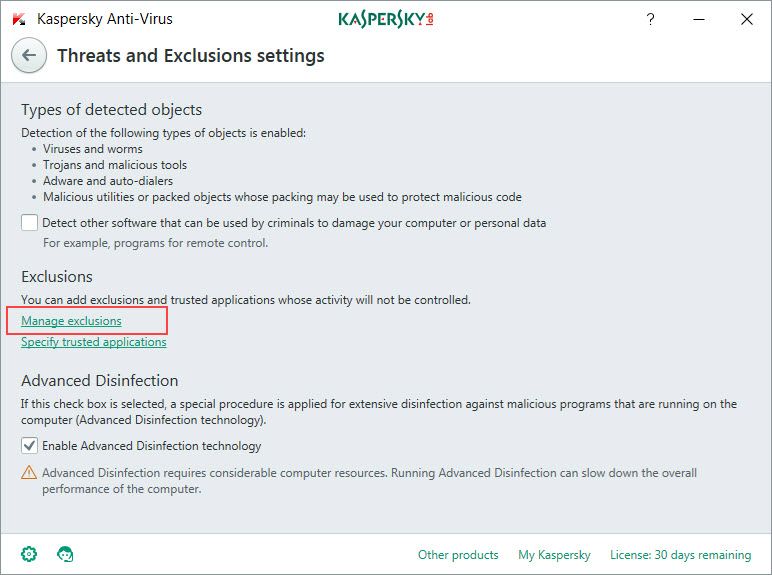 5.
Here in the "Exclusions" window, click the "Add button" (Figure 1-5)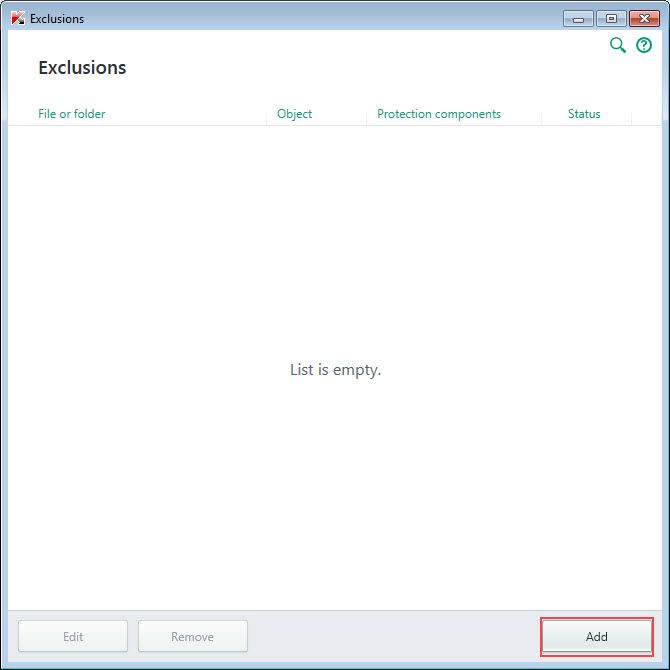 6.
Locate the "CCBoot" installation path then add the "CCBoot.exe" (Figure 1-6)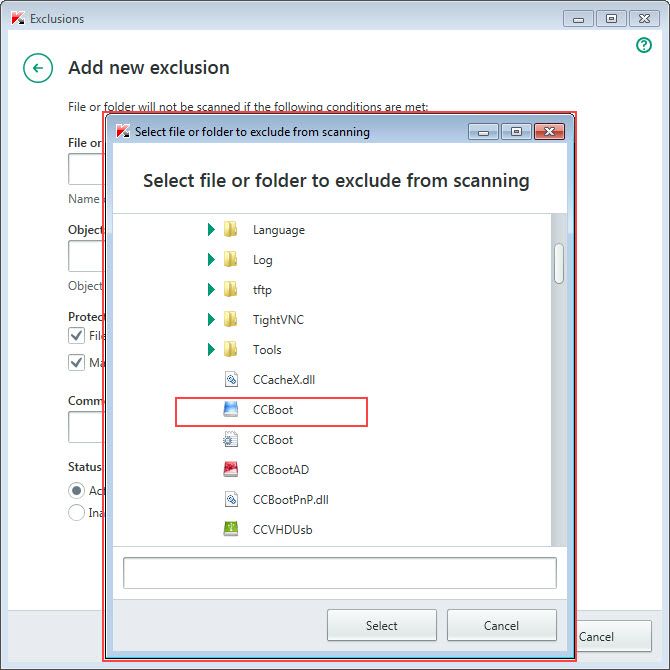 7.
Select the "CCBoot.exe", and then click the "Add button" (Figure 1-7)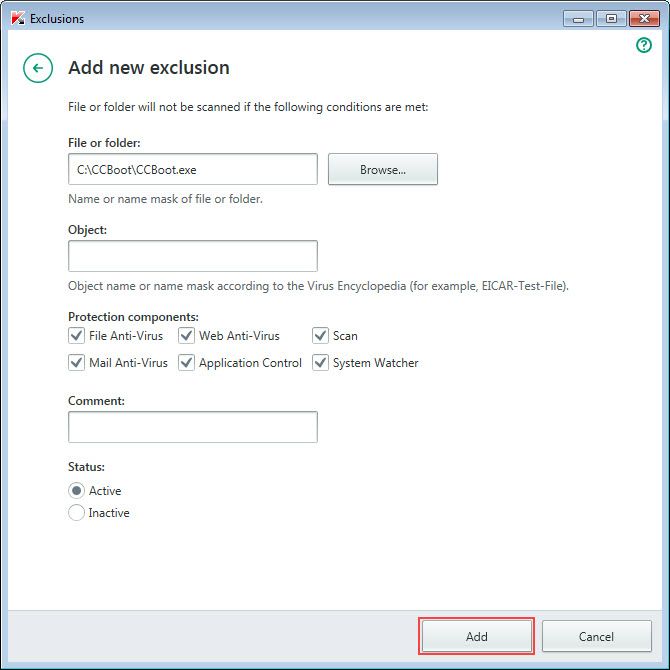 8. Once you already added "CCBoot" in Kaspersky exclusions it will shows like this (Figure 1-8)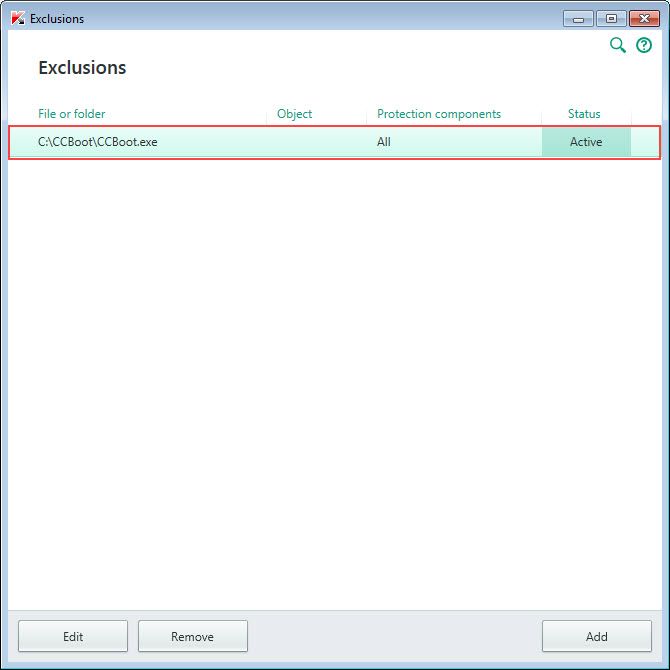 Figure 1-8
Note: If you have installed Antivirus on your CCBoot Server, please add CCBoot program on your Antivirus exclusion list

Make sure also that you should not download our CCBoot setup package from other sources and download it only from our website.

Related:
Use Net Limiter on CCBoot client
Fix Windows 10 activation issue on CCBoot client
Update CCBoot older version to new
Prevent from spreading ransomware virus