Wiki Home Server Settings List Box
List Box
2017/05/31 20:20
1. Disk List
Click the "Disk Manager" node on the tree; you can see all the disk drive you have connected to your Server. The new "Disk Manager" also shows the performance of the disk in your server.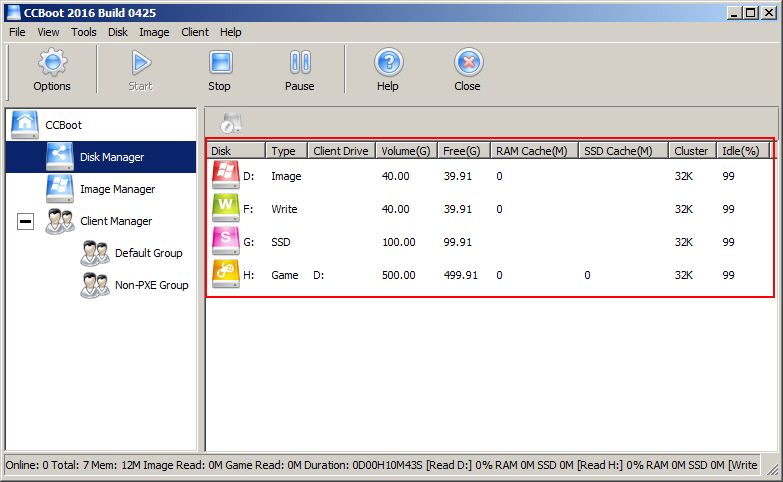 Figure 1
Disk: Available disk drives on you Server.
Type: Show the type of the disk for each driver (Write, Image, Game, Unused, SSD)
Client Drive: Game disk driver letter in client PC.
Volume (G): Shows the size of the drive in GB.
Free (G): Show the amount of free space available of the drive in GB.
RAM Cache (M): Amount of RAM allocated for each drive. (SSD drive does not have RAM Cache)
SSD Cache: Show the amount of SSD cache set for the drive (Only Game disk has SSD cache available)
Idle (%): Show idleness of the drive. (Higher this is better performance clients will have.)
2. Image Manager
Click the "Image Manager" node on the tree; you can see all the images you have added in your Server. The new "Image Manager"also size of the image as well as the last updated date.
Note. Updated date is shown only if the image has recovery points.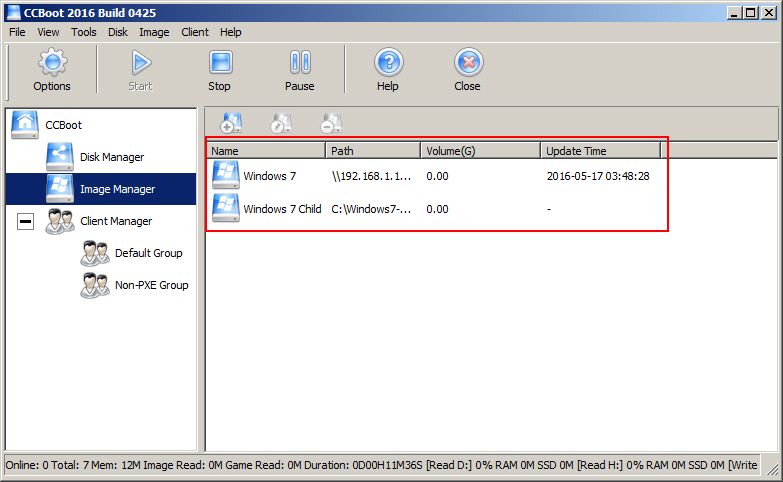 Figure 2
Name: The name of the image
Path: Location of image in the computer
Volume (G): Size of the image file. (VHD internal size.not the size of vhd)
Update Time: Shows the last superclient update of the image. (Image need to have recovery point to show the update time.)
3. Client List
Click the "Client Manager" node in the tree; you can see the client detailed parameters. (If you want to display all the parameters, please select "view all cols" in the "View"menu. Or right click on the column header.)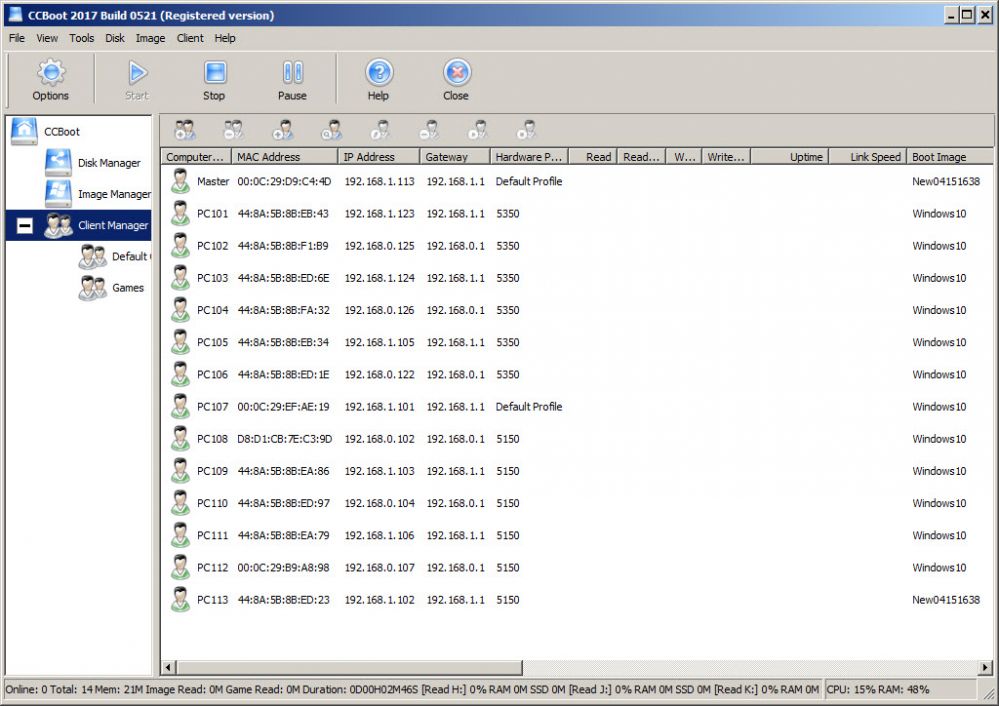 Figure 3
Some of the list items are hidden in the above picture but are listed below
Computer Name: The computer name of the client.
MAC Address: The MAC address of the client.
IP Address: Server assigned client IP address.
Gateway: Gateway assigned to the Client.
Read: The amount of data read by the client.
Read Speed: Read Speed of client data.
Write: Amount of Write-Back data from client.
Write Speed: The client Write-Back speed.
Uptime: Displays client's up time since client DHCP and PXE download.
Link Speed:Displays client's Ethernet ports speed
Boot Image: Displays the client's boot image.
Boot Server: Server's IP address.
Enable: Allows the client to boot from the server.
GPXE: Displays the PXE file name.
Write-back Path: Write-back path of the client.
Client Cache: Client writes cache at local.
CPU: Displays client's CPU Model
Video Card: Displays client's graphics card Model
Motherboard: Displays client's Motherboard Model
RAM: Displays client's RAM size.
CPU Temperature: Shows the client PC CPU temperature
GPU Temperature: Shows the client PC Graphics card temperature
Active Process: Shows the currently active process name on the client PC
Hardware Profile: Shows the hardware profile assigned to the client PC
Status: Show the client's status Online/Offline
Related: