Wiki Home Server Settings Client Menu
Client Menu
2016/07/28 01:12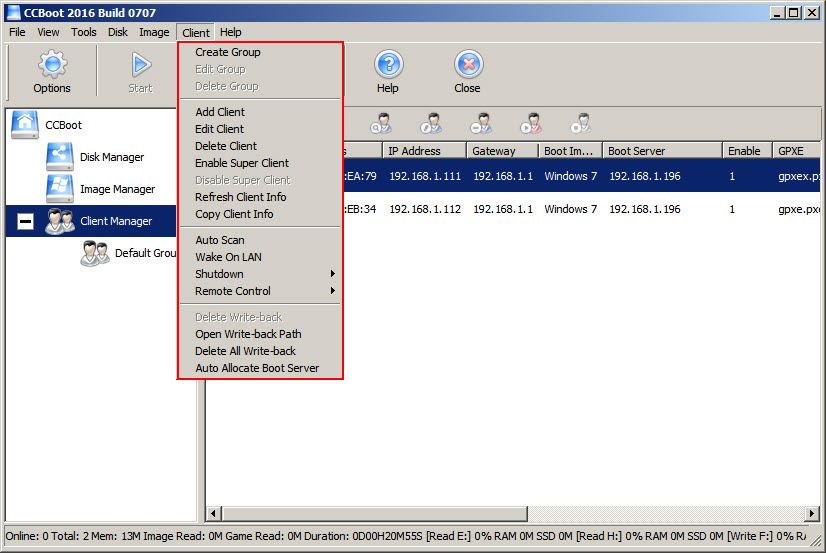 Figure 1
Create Group: Allows you to create Client group for the clients.
Edit Group: Allows you to change the name and description of the Group
Delete Group: Deletes the selected Client Group
Add Client: Add client.
Edit Client: Edit the selected client.
Delete Client: Delete the selected one or more clients.
Enable Super Client: Allow you to put client in Super Client mode and make changes which can be saved when mode is disabled.
Disable Super Client: Disables Super Client mode and allow you to save the changes to the image.
Refresh Client Info: Refreshes Client information in the columns which are not showing.
Copy Client Info: Copies the selected client's information to use for making CSV or other use.
Auto Scan: To Scan the client "Start IP" and "End IP" and to automatically add the client list.
Wake on LAN: The Server can remotely wake up the selected Client/s.
Shutdown: ->
Shutdown: Shuts down the selected client PC/s

Reboot: Reboots the selected Client PC/s

Log Off: Logs Off the selected Client PC/s

Magic Shutdown: Put the selected Client PC/s to sleep mode like state, clients can be woken from this state using Wake on LAN command.
Remote Control:->
Remote Control: Allow you to remote control yoru client through VND

Remote Monitor: Allows you to remotely monitor your client's usage without hindering their experience
Delete Write-back: Clear the client "Write-Back File".
Open Write-back Path: To show the client Write-Back drive location.
Delete All Write-back: Clear all Client Write-Back File.
Auto Allocate Boot Server: Intelligently assigns automatically the Boot server IP for all clients.
Related: