Wiki Home Quick Start Install CCBoot Server
Install CCBoot Server
2018/07/24 23:16
Download the latest version of CCBoot Setup Package from website.
Installation process takes about a minute.
Note: CCBoot trial works for 30 Days for 5 users. There are no other limitation in functions.
If you try to boot more than 5PCs in trial then clients will not be stable and may crash. 5 PC trial is most stable, any more you want to boot, please purchase license.
Like in older version when email and password was used for trial, the new version doesn't have that thus to reset trial please re install server OS once and install CCBoot again. Make sure you backup your settings so you can restore it quickly.
1) Open the setup package, click 'Next' in the installation wizard (Figure 1-1).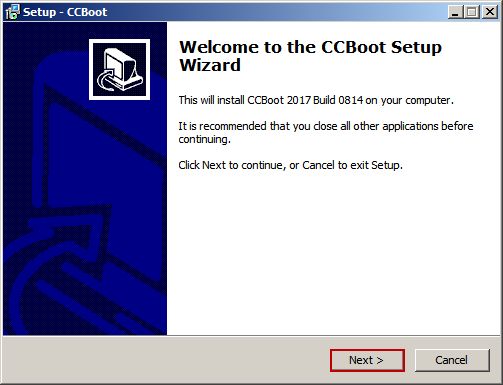 Figure 1‑1
2) Select the "CCBoot Server Installation" radio button in the "Select Component" step, and then click "Next" button installation starts. (Figure 1-2)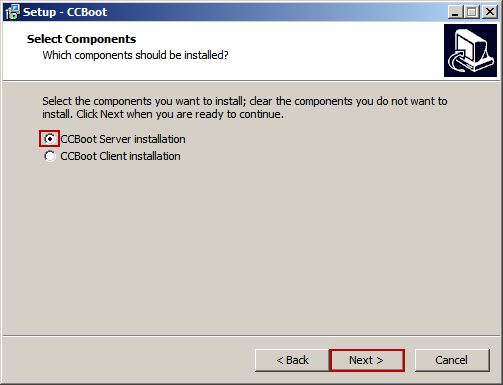 Figure 1-2
3) Once installation is complete, check the "Launch CCBoot" checkbox and click "Finish"button (Figure 1-3).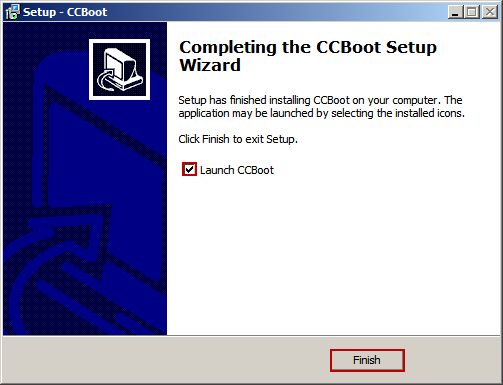 Figure 1‑3
4) On the pop-up dialog box, click "Yes" button to reboot your server (Figure 1-4).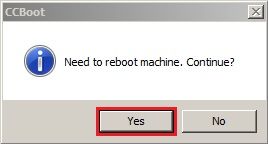 Figure 1-4
5) Once the server is rebooted, double click the CCBoot icon on the desktop to open the CCBoot main UI (Figure 1-5).
Figure 1-5
6) If you have purchased license already then lets register the license. Click "Help" menu then click "About and Register" option (Figure 1-6) .
Figure 1-6
7) Now, on the "About CCBoot" dialog box, enter your license and click "Register" (Figure 1-7).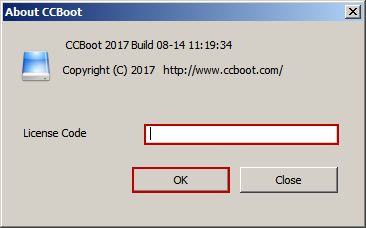 Figure 1-7
8) Once the license is verified on our server, a pop-up will open "Register OK", click "OK" button to close it (Figure 1-8)
Figure 1‑8
9) Added new features "Enable client stats" you can see through ccboot client that being process (Figure 1-9)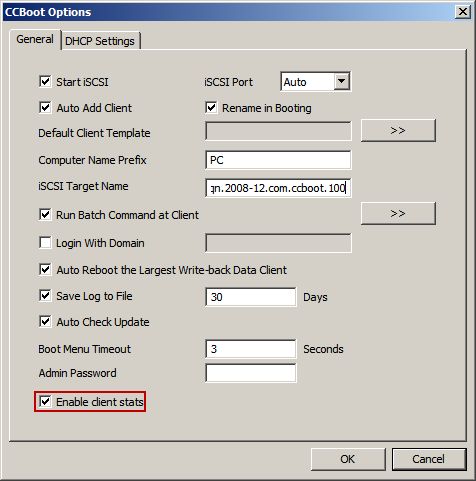 Figure 1-9
10) Now, setup the DHCP settings as per your network configuration (Figure 1-10).
Note: The CCBoot Server should have static IP in the LAN. Do not set CCBoot server to get IP from DHCP.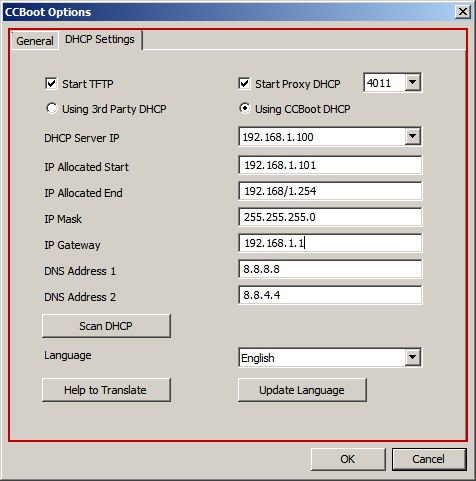 Figure 1‑10
11) icafemenu are added on ccboot installation package (Figure 1-11)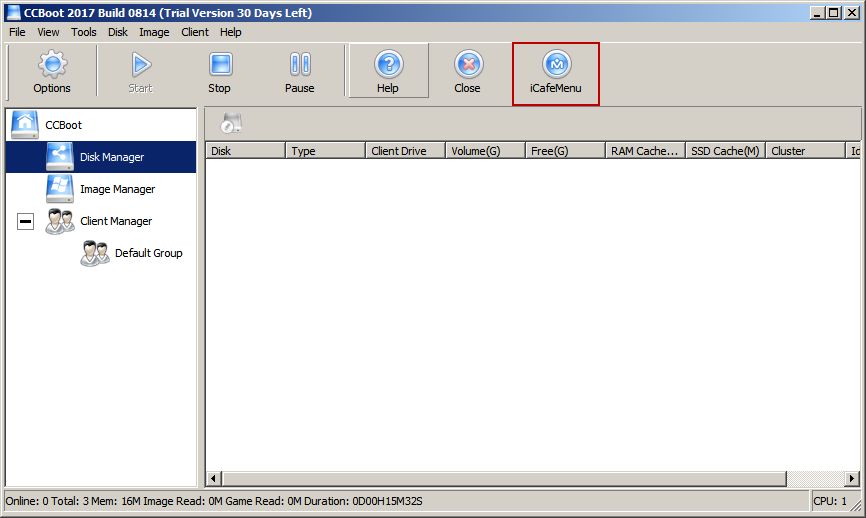 Figure 1-11
12) If you have icafemenu license register it or if you dont have you can register for free trial (Figure 1-12)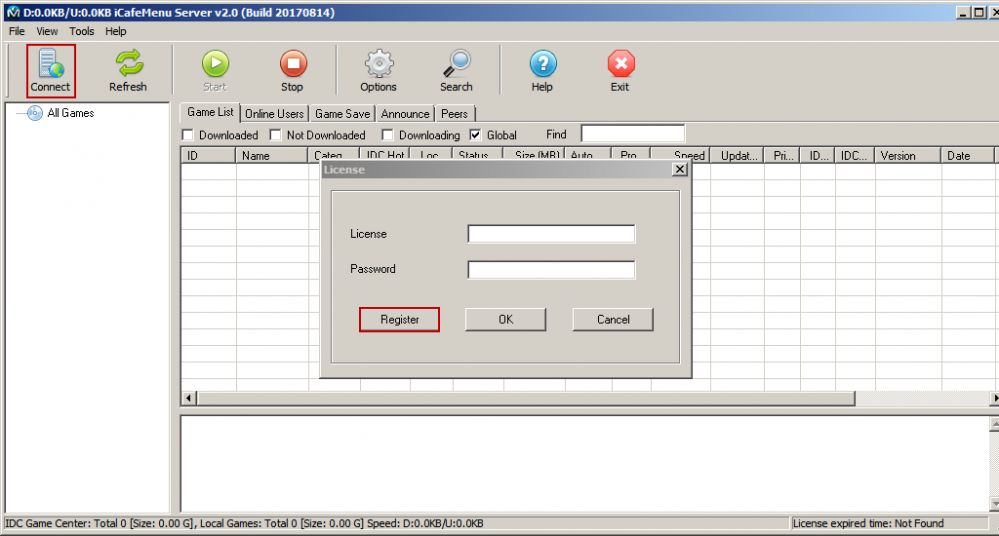 Figure 1-12
CCBoot Server Ports

CCBoot uses the following ports - 67 (DHCP), 69 (TFTP), 3260 (iSCSI), 1000 (Image Upload),8001 (Service Control). Please open these ports on the server firewall to make sure client PC can diskless boot successfully. For CCBoot v3.0, you also need to open port 66. v3.0 using port 66 as DHCP backup. And after v3.0 20130871,CCBoot use port 4011 instead of port 66 as DHCP backup.
Note: In order to make sure that client's PCs can diskless boot well, please shut down the other DHCP services on the LAN, especially the DHCP service in the router.You can be rest assured that after you disabled other DHCP services on the LAN,it will not affect other computers' connecting to the Internet, because CCBoot will provide DHCP service which could also be used by the computers which boot from HDD.
Related:
Install Apex Legends on CCBoot server.
CCboot server minimum requirements
Make VPN connection work in CCBoot client
Additional Options in CCBoot client