Wiki Home License and Registration Register license on new version of CCBoot
Register license on new version of CCBoot
2018/10/24 16:52
Since, CCBoot version 20161221 and higher we changed the email authentication to just license registration (authentication).
To register the license in the new version.
1. Open About CCBoot window from the Help menu.
2. Enter your license on the license field and then click OK (Figure 1)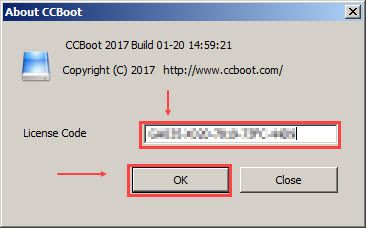 Figure 1
3. It will show "Register OK" once the registration is succeeded.
Related:
CCBoot Works With Active Directory
Manage hardware profiles in CCBoot
Make Mellanox 10G NIC work on CCBoot